The Passion Of Body Revival Is To Help Enhance Immunity, Supports in Healing Method of the Body, And Helps in Improving The Quality Of Life.
Health Reactive has well defined Research and Development policy. The promoters and tech. staff of the company have not only launched a product but their zeal and mission to eradicate the ailments of the human suffering and to achieve the same devoid of the most dreaded evil monster of modern DISEASES including SIDE EFFECTS.
The pursuit of this mission gave birth to a passion to develop such
a product which is a pinnacle in the Shodhana-Rasayana- Kayakalp segment as laid out by Maharishi Charaka in his ayurvedic text compilation "Charaka Samhita". Inventor and Promoter of the company
Mr.Munir Khan has Invented 'Body Revival' which is an Micro-Herbal, 100% plant extract based formula which dissolves the harmful deposits and flushes out the toxins (Mala) through urine and stool.
Health Reactive blends Ayurvedic expertise with modern technology to authentically boosts the efficacy and safety of such herbs and the ultimate formulations.
The R&D department is focused on developing specialized products, quality control and standardization. Body Revival is derived after intensive in house research and produced in the state of the art production facilities.
Health Reactive and Body Revival in pursuit of excellence of international standards is benchmarked and as per with worldwide accepted protocols such as, A GMP & ISO Certified Ayurvedic Quality Medicine.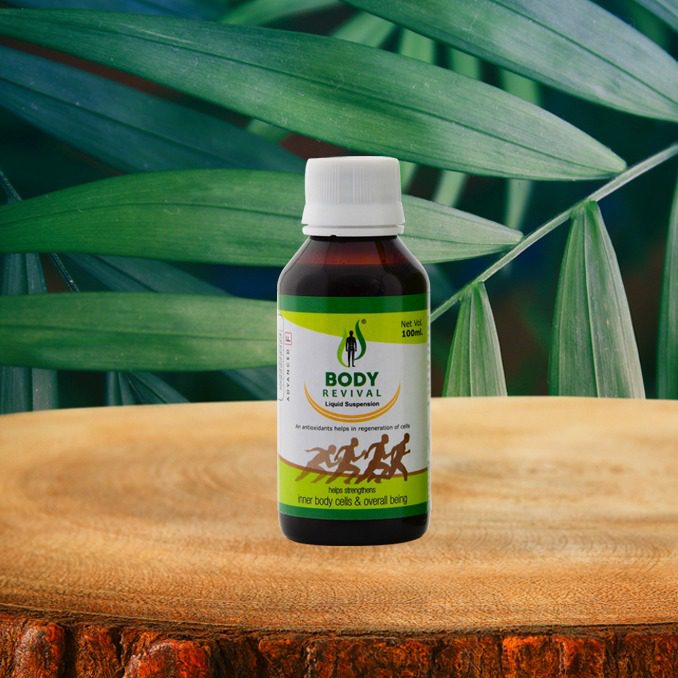 Reason why you should choose body revival-
Indian system of medicine, The Ayurveda is unique in recognizing rejuvenation, not only as possible but assigning it priority over the treatment of other ailments. To achieve rejuvenation, various body purification processes (shodhana) were adopted by the ancient hermits/ascetics which we term as
'detoxification' in modern science. After detoxification, to further revive the aging body, Rasayana (rejuvenation) therapy was initiated. The precise selection of divya herbs and the action of each plant parts was determined by the doctrine of Rasa, Guna, Virya, Vipaca, Prabhav, and Karma of the plant. it is so powerful that it can also be beneficial in various diseases. With this therapy, all tissues, glands, and organs, however inactive, started functioning in harmony.
Body revival is more than a medicine, it's a healer that heals your body in a way that you will feel a new energy and spark inside, and that energy will become a weapon to fight from various acute and chronic diseases such as cancer, heart, kidney and diabetes.

Cancer treatment in Ayurvedic immunotherapy doesn't just focus on the area of the malignancy, but on the entire system, as the whole organism is to be returned to harmony for the disease to be treated and prevent its recurrence.

Body revival has completed its 25 years successfully, and we will continue our journey by providing care with complete emotional and mental support to cancer patients.
What makes body revival different from others-
It is very important to understand that 'Body Revival' does not claim to cure any disease. The formulation of Body Revival supports in strengthening the immunity of the body. The human body and its immune systems are completely capable to fight the deficiency of the body that causes health problems. On the other hand, the cells have the potential to rejuvenate and generate healthy cells. Body Revival works on these core phenomena.
It has the propensity to strengthen the inner body cells that have been weakened, helps repair them, and helps increase its strength, support immunity, and blood cleansing process. It helps in the removal of toxic substances which are harmful to the body and resultantly the deteriorating health conditions get alleviated. The whole working mechanism is similar in the rejuvenation of every organ which is made of tissues which in turn are made of cells.
Body revival helps providing relief in cancer without any side effects.

You might start getting relief within 3 doses, depending upon age, level of damage and type of human body, as every human is different in more than many ways, so the formulation works differently on every person.

It may help in reducing the side effects of chemotherapy.

Body revival supports in slowing down the process of cancer progression.
Body revival's Support in chronic diseases-
It helps preventing kidney damage and may promote its healthy function.
It supports maintaining normal insulin levels.
Helps in the purification of blood.
It support's maintaining heart health.
Boosts Metabolism & Strengthens Defence Mechanism of Body which helps in fighting against any disease & helps the body to heal itself from any disease.
So the overall work of body revival is to provide strength to the immune system that is the root, from where your body receives power to actively fight against various diseases. It helps purify the blood, detoxifies the body, helps dissolve the unhealthy components of bad cells, and flushes toxins out of the body