This is the most common question which people ask about cancer.
It is true that patients diagnosed with cancer may have pain before or after surgery. But the kind of pain varies from patient to patient. Some may experience severe pain whereas others may not have pain at all. If cancer has spread in many parts of the body or has occurred again, the chances of getting pain is more. It also depends on the form of cancer which the patient has. When cancer exerts pressure on nerves or spreads into bones, the pain increases. For instance, those having pancreatic cancer can feel more pain as the pancreas lie above nerves.
Having said that, there are ways to overcome cancer pain and heal yourself. During cancer treatment, it is imperative to manage the pain for a healthy lifestyle.
Let us discuss in brief what managing cancer pain is.
Cause of Cancer Pain
As cancer grows, the tumor is formed which results in the release of chemicals causing the pain. Some may also occur after chemotherapy or radiation.
In certain cases, when cancer reaches the advanced stage, pain increases.
Factors affecting the pain
To discuss with your doctor regarding cancer pain, you must be aware of the factors which are influencing it. Here are a few.
The severity of the pain
Type of medications which you are taking
Kind of pain whether it is achy, sharp, dull, or burning
The activities due to which pain increases
Location of the pain
There are over-the-counter medicines which can relieve the pain but they come with the side-affects like constipation and sleepiness. Hence, it is advisable to avoid them.
So what should one choose?
Ayurvedic Treatment for Cancer Pain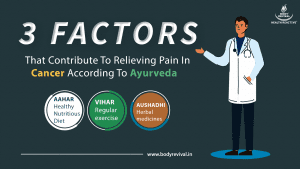 It is believed that with the help of Ayurveda cancer pain can be managed. This is possible by implementing a combination of a proper diet known as Ahar, an exercise which means Vihaar and medications that is Aushadhi.
Pain-relieving therapy in Ayurveda is known as palliative therapy. It has a profound effect on cancer patients who are suffering the pain.
Other Ayurvedic therapies which you can adopt are:
Pranayama – breathing and relaxation
Yoga
Dhyana or meditation
Prayer and chanting of Mantra
Following a systematic nutritional diet plan
One can also adopt the below practices for better results:
Understand how the overall medicine or therapy will affect you. You also need to note the effects of it.
Follow the plan/therapy regularly to avoid pain from increasing.
Ensure that you have sufficient medication with you. A proper herbal dosage with the therapy can work wonders.
Conclusion
We know that cancer can not only affect the years we are going to live but also the kind of life which we may live. Keeping that in mind, patients should go through effective pain management for overall recovery. There are herbal products whose minimal dosage can show you the difference in a very short period of time. Moreover, you will find no side effects after consuming them.