Around 80% to 100% of people with cancer, face cancer fatigue.
What is Cancer-related fatigue?
Also known as cancer fatigue or CRF is one of the most common side effects of cancer and its treatments. Cancer patients who have this problem feel tired and can feel beyond it. Those who face it often describe it as paralyzing. It comes suddenly and is not due to any exertion. People who have cancer fatigue cannot overcome it even with a good amount of sleep or rest. Most of the time people feel physically, emotionally, and mentally exhausted. It can affect the quality of life of the people.
What are the ways one can cope with Cancer Fatigue? Does Ayurveda have any options?
Cancer fatigue may be worse if you are not eating enough or if you are not eating the right foods. According to Ayurveda, maintaining good nutrition and exercise can help you feel better and have more energy.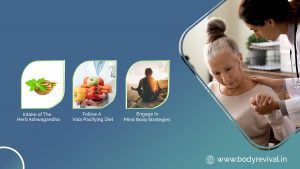 Here are some ways in which you can deal with Cancer Fatigue:
● Intake of the herb Ashwagandha– It prolongs life, combats diseases, and protects both body and mind from stress. It restores energy and improves the muscular and neurological functions of patients suffering from fatigue. It assists in regulating sleep cycles, boosts the immune system, and reduces anxiety and depression. Its antidepressant effect is equal to that of imipramine and it reduced brain levels of tribulation, a chemical marker of anxiety. Today various medical experts are supporting its use as an anti-anxiety therapy. When used in conjunction with other herbs, Ashwagandha restores the brain's level of natural antioxidants and measurably reduces the oxidative stress that contributes to cancer fatigue.
● Follow a Vata-pacifying diet – Along with daily routine, sleeping early and avoidance of mental work right before bed, one must also adopt a Vata pacifying diet. Emotional fatigue can be tackled with a Pitta-pacifying diet and daily routine, organic rose petal spread, and regular meals. Kapha &  pacifying diet and daily routine are extremely helpful when one is suffering from cancer fatigue.
● Engage in Mind-Body Strategies – Experts have suggested practicing mindfulness-based approaches or activities, such as yoga or meditation, to bring back the balance in the body. Even going for a long walk can help. Other relaxation techniques that people should try are deep breathing or visualization as they can help reduce stress and minimize cancer fatigue.
There are different natural Ayurvedic remedies like Body Revival to remove toxins and get relief from cancer fatigue. It can help in bringing back the body into balance and restore health. If you wish to discuss more about cancer fatigue and its remedies, you can consult our experts and ask a
free question.