Melanoma is one of the most serious types of skin cancer that develops in the cells referred to as melanocytes that generate melanin, a pigment that provides your skin it's color. Melanoma can also occur in the eyes and, rarely, inside the body, like in the nose or throat. Causes The exact cause of all melanomas is still not available, however, exposure to ultraviolet (UV) radiation from direct sunlight or tanning lamps and beds increases the risk of developing melanoma. Limiting exposure to UV radiation can help decline the risk of melanoma. The risk of melanoma is increasing in people under 40 and that too especially women. If known, the warning signs of skin cancer may help ensure that cancerous changes are detected and treated well before cancer has spread. Melanoma can be treated successfully if detected early.
Symptoms
The first and foremost important warning sign of melanoma is a new spot on the skin or a spot that has changed in size, shape, or color. Along with this, another important sign is a spot that looks a bit different from all of the other spots on your skin which is known as the ugly duckling sign. If the person has one of these warning signs, then it's better to consult a doctor. The ABCDE rule is one of the usual signs of melanoma. Be on the lookout and tell the doctor about spots that have any of the following features as follows; A is for Asymmetry: One half of a mole or birthmark doesn't match the other. B is for Border: The edges are irregular, ragged, notched, or blurred. C is for Color: The color is not at all the same all over and can include different shades of brown or black, or sometimes with patches of pink, red, white, or blue. D is for Diameter: The spot is bigger than 6 millimeters across about ¼ inch – the size of a pencil eraser, even if melanomas can sometimes be smaller than this. E is for Evolving: The mole is changing in size, shape, or color.  Some melanomas don't fit such rules. It is necessary to tell the doctor about any changes or new spots on the skin, or growths that look different from the rest of the other moles.
Other warning signs are:
1)A sore that doesn't heal
2) Spreading of pigment from the border of a spot into the surrounding skin.
3)Redness or a new swelling beyond the border of the mole.
4)Changing in sensation, like itchiness, tenderness, or pain.
5)Changes in the surface of a mole-like scaliness, oozing, bleeding, or the appearance of a lump or bump.
Preventions
 Although there are many factors that can help to prevent skin cancer, below are some common factors that can help to avoid it. Leading medical experts, including surgeons, recommend below five steps for preventing skin cancer
1. Avoid the sun between 10 a.m. and 4 p.m., which are the peak hours of sun strength in North America, including the winter and on cloudy days
2.  Wear sunscreen lotion of at least SPF 15 throughout the entire year. Apply sunscreen every two hours or more frequently if done swimming or during sweating.
3.  Wear protective clothing. Hats with wide brims and clothing covering your arms and legs may be helpful. Sunscreen lotion doesn't block all UV rays, which causes skin cancer.
4. Completely avoid tanning beds. Tanning beds operate with UV lights, damage the skin and potentially lead to cancer.
5. Self-check the skin. If a person notices any differences, then better talk with the doctor or specialist.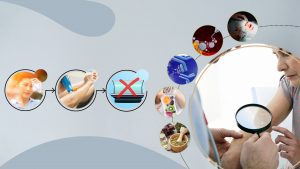 Risk Factors for Melanoma
These factors increase your melanoma risk:
Unprotected or excessive UV exposure from the sun or indoor tanning.
A weak immune system because of medical conditions or medications.
Many moles: The more moles a person has on his/her body, the higher the risk for melanoma.
Also, large moles larger than a tip of a pencil eraser or any atypical moles might increase the risk for melanoma.
Fair skin: Melanoma spreads more frequently in people with fair skin, light eyes, and light or red hair.
Diet for Melanoma Skin Cancer
 The war against cancer includes diet – the most prominent weapon. Experts say that if your plate is filled with natural items such as plant food, it will help in effective recovery. The following food items are immunity boosters in case of skin cancer.
      Folate-rich foods for protection against mutation of cells. E.g., cereals
      Vitamin-D-rich food to curb the growth of cancer. E.g., milk
      Cruciferous Vegetables like broccoli
      Curcumin-rich foods kill cancer cells in certain cancers and prevent them from growing further.
Treatment for Melanoma
If detected early, it is possible to remove melanoma surgically. If it has spread too much, the alternative treatments are:
Chemotherapy
Immunotherapy
Targeted therapy
Nutrition therapy
Herbal medicine
Today, several types of immunotherapy drugs are available to treat melanoma. These drugs are prescribed to people with stage 3 or stage 4 melanoma in most cases. Body Revival is one such treatment based on Immunotherapy and Ayurveda. It can boost the immune system to fight cancer. It empowers the body with self-healing abilities and purifies and supports the tissues to ensure natural recovery. While radiation and chemotherapy help fight cancer, the body is heavily depleted and requires support to sustain. Ayurveda and Immunotherapy have become complementary treatments to support this process. It includes natural and herbal health supplements along with Ayurvedic health practices such as meditation, yoga, special diets with specific timings, and bowel cleansing.