Risk factors for brain cancer are wide and vary at different levels. The important point is that the cause of brain cancer is still vastly unknown. Although some genetic conditions and environmental factors might contribute to the overall development of brain cancer, the risk factors are very less acquired for brain cancer rather than for cancers in the other parts of the body. Also along with this, the risk of developing primary brain cancer is very less. The American Cancer Society has estimated that the risk over a lifetime is less than 2.5%. It's important to note that a brain cancer risk factor affects the probability of developing brain cancer over a lifetime. Let's say, if a patient has received radiation therapy or chemotherapy to treat another cancer, or maybe it worked in an industry where you handled potentially cancerous chemicals, there may be a discussion with the doctor about what it means for the individual risk of development of brain cancer. There is no definite or general cause of brain tumors or brain cancer. Meanwhile, certain factors may increase the risk.
Let's just take a closer look at the more common risk factors of brain cancer that might be helpful for individuals who are determining their own levels of risk: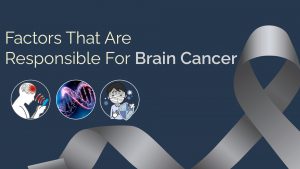 -Radiation Exposure
One of the most common risk factors for brain cancer is exposure to ionizing radiation like radiation therapy that was delivered to the head or neck. Exposure to some chemicals and electromagnetic fields might also make a person most likely to suffer from a brain tumor, even though the correlation hasn't yet been confirmed.
-Genetics
Basically, researchers have recognized several genetic risk factors. People who have inherited the following conditions might have a higher risk of suffering from brain cancer:
1)Neurofibromatosis type 1 (N1F1) or type 2 (N2F2)
2)Tuberous sclerosis
3)Von Hippel-Lindau disease
4)Li-Fraumeni syndrome
-Weakened Immune System
Immunity system disorders, like AIDS, might also make a person more susceptible to brain cancer. Identically, getting infected with Epstein-Barr virus (EBV) may increase a person's risk of creating central nervous system lymphoma.
-Other General Factors
Age and biological sex could also influence a person's brain at cancer risk. With the exception of meningioma, more commonly in women, maximum brain cancers are diagnosed in men. Older adults also are the most likely age group to develop brain tumors or brain cancers.
-Age
Brain tumors are very common in children and older adults, even if people of any age can develop a brain tumor. Home and work exposures. Exposure to solvents, pesticides, oil products, rubber, or vinyl chloride may incline the risk of developing a brain tumor. But, there is not yet scientific or specific evidence that supports this.
However, to prevent the above risk, people should try Body Revival the solution based on Ayurveda and immunotherapy.