It is known that Bladder cancer affects around 550,000 people worldwide each year. The occurrence of such cancer is most common in men and is important to detect early. But the question is, are there chances to cure bladder cancer? The answer is yes. Most cases of bladder cancer are caught early and are treatable with immunotherapy.
Several factors affect the treatment of bladder cancer.
The type of bladder cancer
Bladder cancer stage
The grade of bladder cancer
The overall health of the patient
Treatment preferences of the patient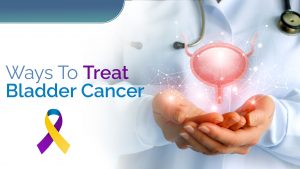 Various Bladder cancer treatment options
Intravesical chemotherapy: Type of the chemotherapy is to treat tumors confined to the bladder lining with a high risk of progression or recurrence.
Systemic chemotherapy: In this type of treatment entire body is treated. It is to increase the chance of a cure after bladder removal surgery, or as a primary treatment where surgery isn't an option.
Radiation therapy is for destroying cancer cells. Radiation therapy is often used as the primary treatment to target localized cancer cells option when surgery isn't an option.
Immunotherapy is the treatment that triggers the body's immune system to fight cancer cells.
Surgery is part of the treatment for most bladder cancers. The type and extent of the surgery depend on the stage of cancer and other factors such as the longer-term side effects of the procedure.
 In advanced bladder cancer, one can find immunotherapy's benefits. Also, Bladder cancer treatment by conventional medication can be complemented by Ayurveda. Medical experts have suggested the Panchakarma therapy, which detoxifies the body. It is done through methods like:
Snehana therapy – an oil massage
Swedana- a steaming therapy
Vamana that is by urging vomiting
Virechana that is by purging
Basti is the enema medication
Nasya or through nasal medication
Raktamokshana Therapy
Apart from the above methods, consuming medicated juices, which contain fruits and vegetables can help in curing the ailment. Antioxidant Ayurvedic medicines are also highly beneficial. Practicing yoga, sound therapy, pranayama, acupressure, and acupuncture can help in the long run. Hence, there are high chances of curing bladder cancer. Also, you can choose Body Revival based on immunotherapy and Ayurveda which is the tested solution for people suffering from bladder cancer. To know more about it you can connect with the experts.