Before going ahead, let us know what melanoma skin cancer is. Melanoma is a kind of skin cancer that develops in melanocytes or skin cells. These skin cells produce melanin, which provides color to the skin. The Melanoma Foundation study reveals that more than 70 percent of melanoma skin cancer develops in or near an existing mole or dark spot on your skin. One should observe the size or appearance of moles and birthmarks. These changes could mean melanoma is developing. Exposure to ultraviolet (UV) light from the sun increases the risk for such type of skin cancer. If detected early, it is possible to remove melanoma surgically. If it has spread too much, the alternative treatments are:
Chemotherapy– Chemo might be used to treat advanced melanoma after other treatments have been tried, but it's not often used as the first treatment.
Immunotherapy– Several types of immunotherapy drugs are available to treat melanoma. These drugs are prescribed to people with stage 3 or stage 4 melanoma in most cases. But in some cases, experts suggest implementing immunotherapy for less advanced melanoma.
Targeted therapy-Targeted therapy is a type of melanoma treatment that uses drugs to more precisely identify and stop the action of molecules that are key to the growth of cancer cells.
Nutrition therapy– Experts suggest eating foods with antioxidants or having antioxidant supplements as they can help in fighting cancer by neutralizing free radicals. These are highly reactive chemicals that can harm cells. Studies also reveal that plant-based spices, such as curcumin and some naturally-occurring compounds in plant-based foods, may help prevent cancer. These compounds, called flavonoids, are found in apples, broccoli, tomatoes, and grapes.
Herbal medicine – Plant-based medicines can be taken in the form of teas or capsules. Green tea has long been hailed for its health benefits, from cancer to arthritis. Packed with powerful antioxidants, green tea may prevent skin tumors from forming.
Massage and physical therapy– Massage and physical therapy can help you manage chronic pain from melanoma. If melanoma has spread to your lymph nodes, strength training and stretching from physical therapy can be beneficial.
Mind-Body Therapy– Exercise is highly recommended for melanoma patients to maintain a healthy body weight and to keep energy levels high.
Naturopathic Medicine– Naturopathic medicine incorporates natural therapies from various healing traditions. These range from herbal supplements to forms of body manipulation, such as massage and acupuncture. Various treatments today use immunotherapy and Ayurveda to treat cancers, including melanoma, and one such treatment is Body Revival. It can boost the immune system to fight cancer.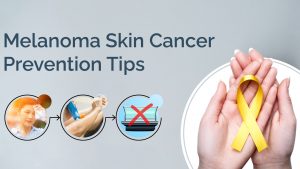 Prevention Tips
Here are ways in which you can prevent melanoma-
Avoid prolonged exposure to the sun.
Avoid tanning beds.
Wear sunscreen all the time.
Wear protective clothing that covers your arms, legs, and face when you go outside.